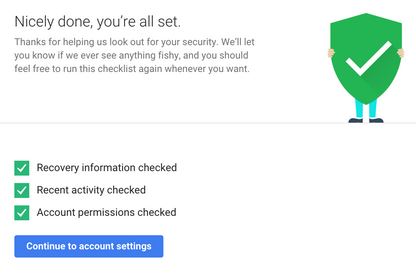 Do you use Google Apps for Education or have a private Gmail account? Have you ever used the Google Security Checkup?
We encourage our staff and students to set up two step authentication for their Google accounts, I use this to safeguard myself but I also used the security check up yesterday just to check up on my account. Google recommend that you get in the habit of doing it regularly so perhaps if you value it you could set up a regular alert to do so. I will be recommending it as a good thing to do for our students, staff and parents to just have a check on how secure their account is.
It is really straightforward and will only take a few minutes of your time. It covers things like:
Ensures your account recovery information is current
If we detect suspicious activity in your account, we use your recovery info to get in touch and make sure no one but you gains access.
Lets you review recent sign-in activity
Reviewing this lets you validate the sign-ins are coming from you and not someone who shouldn't be using your credentials.
Confirms the apps and devices that access some account information
This step lets you monitor this list and remove apps and devices that don't need access to your account any more.
Do you use this regularly? Do you insist that all those in your organisation if you use Google Apps for Education have two-step authentication or complete this check regularly?
I read about the security check up whilst reading about the student privacy pledge in the US and that Google had finally signed it. Does this apply to student data in the UK or just US citizens or because the information is held by US companies all that are registered are covered? Does anyone out there know?