If you are using Google Classroom or are thinking of using it then please check out the three earlier posts about it.
This post is about some of the issues that we are coming across and where you can go for help. As I have discussed in previous posts Google are great and are extremely responsive to feedback and Google Classroom is constantly evolving so please submit feedback.
One of the main issues coming from some of our staff and students at the moment is that for some students the attachment or the full assignment details itself are not appearing from them. This happened to me once however after 10 minutes of refreshing it then worked. However for others this seems to be a longer term problem, no one really knows why this is happening. We thought it could be to do with the renaming or changing of folders in drive however it appears that this isn't the case. The only solution we have found at the moment is to delete and add the assignment again and then it seems to work. Hopefully a better solution will be worked out in the future.
A good way to get help though is to join and visit the worldwide international Google Classroom Help group:
https://productforums.google.com/forum/#!categories/google-education/classroom
Some other feedback and suggestions for improvement are:
Having more than one teacher/shared class – you can add more teachers etc but they don't seem to have the same admin rights as you the class teacher. One way is to share the main classroom folder with them so they can view etc but still they are not the same as the original class teacher.
Mark book – I really want to arrange my class list as I wish, so hopefully we can filter this how we want in the future live on Classroom. For example if I want to list them in alphabetical order by surname I can't.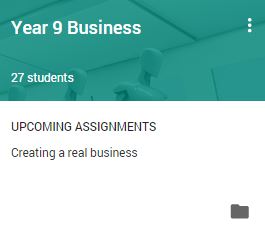 Pending assignments – at the moment a student only sees pending assignments on their home screen when it gets a week or so away from the deadline, shouldn't this be customized so the teacher or student can select the timeline to suit how they work. For example for longer term projects they may want them always to be there or want reminders every week etc.
I have also found this other great blog recently – '20 things you can do with Google Classroom'
Are you using Classroom? What do you think?