I have been using Ning with my students for the last couple of years and I have to say for a completely free service it is amazing! For any of you who have never come across it – you can sign up for free and for within a matter of minutes you can create your own online community that looks and feels like facebook or bebo. You can then make it completely private to protect say your students and you then can control who joins the community in fact you can invite people only if that is how you want to work it.
The site is www.ning.com and it is unbelievably easy to use as I said you could create a new online community in a matter of minutes e.g. say you wanted to set up a committee group to organise this year's Christmas fair in your school then you create the address say www.xmasfair.ning.com customise what features you want such as discussion boards, videos, music, ability to upload files and even instant chat then press submit and it is all there.
I have about 15 or so set up for different groups of students – some have been culled now after just a few months of use as that was all they were needed for by the students such as when they were working on a specific project others have been going for over a year and even though the students have moved on to different classes they still contribute and collaborate and discuss their learning with me and the others on the community. Some of these communities have been fantastic especially for students to share their revision and resources.
Recently some of my students were creating podcasts or videos for their own revision, they then posted it to their ning community and other students looked at them and downloaded them for their own revision then left comments on what they thought of it and how it could be improved. This was fantastic to see this evolving like this with little interference from me – all I did was afterwards I wrote some feedback to them about what they had done.
More recently with the new instant message chat facility I have conduced some live out of hours revision sessions for students literally sometimes the night before an exam. I have even had parents on line too with their children doing last minute checks on their own revision. This was fantastic as I saw other students supporting their classmates and giving them the answers to questions that they asked me before I could even respond!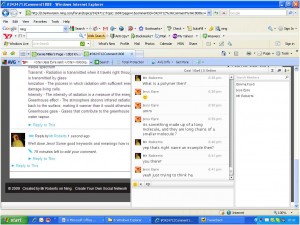 I have gone away from ning and tried other ways of working with collaboratively with students but I keep going back to it. It does exactly what is says on the tin! There is no messing it is sexy yet familiar with a facebook/bebo feel to it. More importantly it is free the one big problem with it and it is the only problem is that if you are under 13 you are not allowed to use it! Please reduce the age of this as my younger students do miss out and we don't really want to get down the route of breaking the law.
Our school at the start of this year spoke to the people from ning and we were told that although it is the law in America about the age of 13 and it didn't apply to the UK students our students still couldn't use it if under 13 as they were using the American website.
I will continue to use ning with my classes as long as over 13, many other teachers are now using it in my school, we now have a staff one where they discuss issues about teaching and learning a bit like a 24 hour staff room: www.saltashrainbow.ning.com We also now have a community where teachers, students, parents and others from the community have started to discuss e-learning at our school. This is early days but more will come from this in September: www.ngkernow.ning.com