This will be one of the last blogs from NECC09.
One of the morning sessions was led by Dr. L. Michael Golden – Vice President of Microsoft Education – who works with 1.4 billion students in the world.
He spoke about what makes an effective teachers and how they work. Vision of Microsoft Education new mission statement – To expand the power of education for all through personalised learning.
Top 10 'summer reading list' from Microsoft such as Office resources, Moviemaker & Skydrive, DreamSpark, Autocollage & Photosynth, Microsoft Math and One note etc
Reminder that on October 22nd it is the launch for Windows 7. What's new? Windows 7 will have dual screen capabilities, new auto detect facility for wireless etc and multi touch.
Nathan Kerr one of the award winning innovative teachers from the worldwide innovative teachers forum in Hong Kong in 2008 then spoke about his project demonstrating the potential of technology.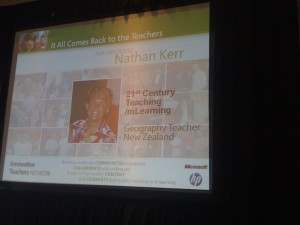 Nathan's project was based around enabling all students to access technology he did this by giving students the technology to convert their videos etc created about their fieldtrips etc to their mobile phones (Mlearning).
He spoke about the increase in student engagement, allows them to express their own learning styles and allow creativity. The videos reinforced the learning on the field trip to help the students complete their studies.
Next up was Thomas Kenny from HP – Real life solutions for education. What does real life mean? It is about trying to live in today's digital society.
HP innovation in Education grants for secondary school districts – www.hp.com/go/K12 Is this available for the UK?
Dr Christine L Coleman – Director of Technology – city school district on New Rochelle. She talked about the cognitive migration of teachers using technology. (Digital Immingration)
There are 3 stages of this Adopt, Adapt & Achieve.
Off to a couple more sessions – more to follow!