Today is Tuesday (I think!) I only know that because I just read the top of the ISTE Daily Leader publication (Of which I meant to drop in I appeared in yesterday which was a bit of a surprise)
Yesterday which was Monday the Worldwide Innovative Teachers were on a panel session with David Walddon from Microsoft about the Innovative Teachers Network www.innovativeteachers.com
David led the panel and 5 of the Worldwide winners from Hong Kong last year spoke about their experiences.
Watch the Worldwide Innovative Teachers Award Winners 2008 just before they present at ISTE's NECC09 in Washington:
http://www.youtube.com/watch?v=cLHTrRKsI-0
First up Dan Roberts UK (me) I spoke about the Recharge the Battery project that you will have probably read about in my earlier blogs. Yet again with a packed out room it was a great opportunity to discuss the work our school does on the world's stage. Next Was Nathan from New Zealand who spoke about his project with students using mobile technology to extend their learning across social and economic problems. He was then followed by Sarah from South Africa who spoke about her innovative project where 60 of her students went into the community to each work with someone with a disability. Each student had to use technology to solve one of their problems for example one lady could not communicate due to her disability so the students created a computer programme for her to express her emotions. Next was Kate from Ireland and you may have heard me talk about her aviation project before (See her blog here: www.kilvemnon.blogspot.com) And finally Andrew from Australia talked about his project on creating Biology podcasts for his students that are now also subscribed by many students around the world.
The panel session was excellent and concluded with questions from the audience chaired by David. Well done to all!
At the end of the session one guy came up to me and told me about a project he was about to start on wild turkeys with his students and that he was now going to install a webcam like our pigcam so there could be possible links there to develop with turkeycam!
After the session as a treat we went for a proper DC brekkie – have a look at this: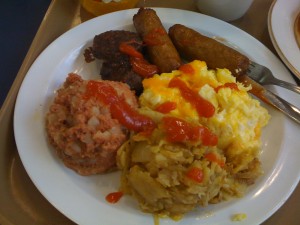 Wow I love this place – how cool that you can have cornbeef hash for breakfast with cheesy eggs I thought I had died and gone to heaven! We then received some excellent feedback regarding our sessions here by an email from Microsoft execs. A big thank you and well done to David Walddon and Lianne Morgan for looking after us and really making this happen.
Later on I attended a couple of workshops will write these up later. Also we sneaked off for 45mins to see the aviation and space museum to check out the Kitty Hawk etc definitely a must see. Followed by a fabulous dinner at the Brewing city restaurant. We then had a great mini coach tour of DC the highlight being the Lincoln memorial as the sun was setting – truly amazing!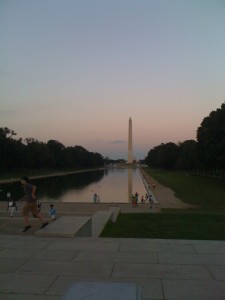 Some interesting things I saw today:
Online bookmarking – XMARKS (Foxmarks) plug in for internet is free – can add it to every computer in a suite and bookmark places for students to visit then when one adds one it adds to all of them.
Digo – Stealing sharing practice etc.
Always forgetting to do things then use 'remember the milk' website – you can tweet it etc updates a to do list. It can send messages to your mobile.
Collaborative learning – doings stuff with others – USE google docs they have lots of new features saw Science teachers working with students they emailed their data in and a spreadsheet then automatically plotted the whole class results.
ETHER PAD – Etherpad.com set your own URL – 8 users at the same time. This is free and allows up to 8 people (maybe 8 groups of students to work collaboratively)
Drop.io – Simple real time sharing and collaboration – upload files add links etc email to drop etc.
Thinkature – working together in real time through workspaces.