On Thursday 25th June I travelled to Washington to attend a tour led by Microsoft and incorporating the International Society for Technology in Education (ISTE's) National Computing conference:
See its website: http://center.uoregon.edu/ISTE/NECC2009/
I was invited by Microsoft with the other 9 or so award winners from the worldwide Innovative Teachers Forum in Hong Kong in November 2008. We will get to share ideas on how to transform education together. We will attend the National Education and Computing Conference where we will be presenting our individual project that won awards in Hong Kong. We will also be having discussions and demonstrations of several new and upcoming products and how they might be utilized in the classroom. And there will be other collaborative activities that will educate all of us in the future of education around the world. Of course we will have some nice meals and a social event or two to see the nation's capital.
The purpose of this event is to:
• Recognize winners from the WW Innovative Teachers Forum
• Promote international sharing of innovative practices of technology integration
• Provide worldwide networking opportunities among top innovators
• Learn from each other about the state of Education Technology around the globe
The party of teachers consisted of: Andrew Douch – Australia, Marialla Paz – El Salvador, Ronald Ddungu – Uganda, Gabriele Jauck – Austria, Nathan Kerr – New Zealand, Elke Mayer – Germany, Sarietjie Musgrave – South Africa, Kate O'Connell – Ireland, Pongpanote Phongpanngam – Thailand, Parambir Singh – India, Emilia Miranda – Portugal, Marise Brandao – Brazil and Fong Yin Kuan – Singapore.
All these people are fantastic teachers in their own right and have been recognised for this but we all have something to offer although quite different we are all passionate about 21st century learning and collaborating together.
On the Saturday (today) early in the morning we left for Microsoft HQ in Washington. Here we worked with David Walddon, Lianne Morgan from Microsoft and Les Foltos from the Puget Sound Centre who works with Microsoft on the Peer Coaching Programme among many other things.
Here are a few pictures of some things I came across in reception:
We started the day looking at the essential question:
What conditions are essential for successful collaboration among teachers? Led by Les Foltos
Needless to say we came up with a massive list of things such as having the clear common goals and vision, understanding the value and necessity of collaboration. There must be enthusiasm, trust, determination, and resilience to make it a success.
The next session was redesigning the Innovative Teachers Network (ITN) – led by Lianne Morgan
We got to see initial designs of the new innovative teachers network that will be semi-launched at NECC but finally at BETT (UK Jan 2010). Basically the ITN will incorporate more web 2.0 tools such as blogs etc. They are trying to incorporate more of the social networking tools etc. There will be better search facility, easier to post resources, personalise your profile, also great new facility for instant messaging and video chat etc.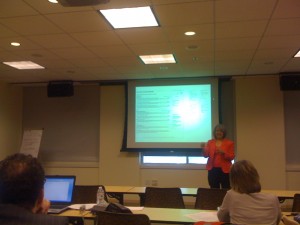 A cool application I saw is a translator – www.microsofttranslator.com (New Bing) This translates any webpage etc from one language to another and places them onscreen side by side so you can access it. You just type in the webpage and select which language you want it translating into. – could you attach it to your school website or blog etc?
More importantly about my first main day I found this cool gift in my gift bag! I was also kept very busy working hard as you can see!