Here is the second part of the NigeriaCornwall post which took place in June this year. As part of the International Inspiration partnership which is an international project that will reach 12 million children from 20 different countries by 2012 we are partnered for the next few years with the Government Secondary School in Karu, Abuja in Nigeria. We made our visit to the school in March 2010 and recently it was the first time our Nigerian partners had come to our school in Cornwall.
A very important part of our partnership is about leadership and management and this is not just developing this in our students but in our teachers and even head teachers. On the Wednesday we gave time for the Head teachers from both schools to discuss a management matter which was surprising that even though both schools and their communities are completely different that often you can also share the same challenges as a head teacher. The two head teachers also had a little bit of time to talk about more important matters such as where to go shopping!
Learning is at the heart of everything we do and is completely at the heart of our partnership with the International Inspiration project. We took time during the visit for our Nigerian teachers to talk to students at our school about their every day learning experiences at saltash.net. They had the opportunities to go and spend time in many lessons and different subject areas. As the Ngozi said to many of our students and staff that they were incredibly lucky here compared to their school in basic things such as the numbers of students within a classroom with say 25-30 here but more like 80 in Nigeria and the actual resources available to students such as computers where she saw many computers in different subject areas where they only have 12 working in their school.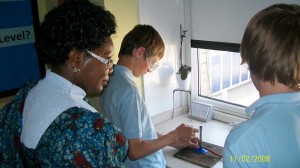 As part of the learning experience we wanted our Nigerian visitors to have time to experience the learning in two of our primary partner schools Sir Robert Geffery's and Burraton school. They were absolutely amazed by the learning that was taking place at those schools and loved meeting the younger children; once again they were completed taken aback by the facilities and resources that were available to those students in those schools. Although some of the challenges and successes that the teachers and students in Cornwall share with our Nigerian partners many every day things were completely worlds apart.
The next post Part 3 will be on one of our 1st Nigerian projects all about literacy!