The 8th Microsoft UK Partners in Learning Forum is a one-day conference, free of charge to all teachers and educators who wish to attend. The workshops and keynote presentations this year had a STEM 'flavour' and addressed the theme of 'Teach more, learn more, inspire more.'
This year the Forum was held at the Microsoft Headquarters, Thames Valley Park in Reading on the 24th Nov 2011. In addition to the huge educational conference was the announcement of Microsoft's UK Innovative Teaching Awards of which 10 teachers from the UK were selected to be winners for 2011. Saltash.net were celebrating to have not just one winner but two winners announced: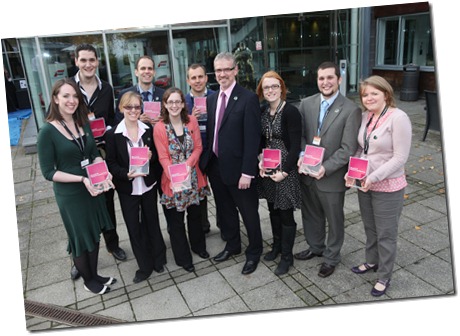 Mr Edwards, ICT Teacher won an award for his innovative work with Kinect in the classroom and Mrs Boothman, History/RE Teacher won an award for her new H.I.T Squad which is a group of students who use ICT in innovative ways within History.
In addition to this, Mr Edwards was invited to speak and run workshops for all of the attendees in Skype in the classroom and Mr Roberts was invited to speak and run workshops for all of the attendees for social networking.
We were celebrating even more at the end of the day when Mrs Boothman was selected as one of the final winners who would attend the European finals in Lisbon in March to present her students work and in addition Mr Roberts won an award for Outstanding Contribution to ICT in Education. Mr Edwards was invited to present on Behalf of Microsoft at the British Educational Training and Technology show in London in January.
'Being able to participate in the Microsoft innovative teachers conference was a fantastic experience which has enabled me to learn from the work of inspirational people.  I am looking forward to implementing this in the class room to enhance the learning experiences of the young people at saltash.net.' Miss Boothman
'Having the opportunity to meet other innovative teachers and to look at the examples of their work in their classrooms was amazing. I was able to experience first-hand the use of technology to achieve similar goals within the classroom environment and able to share the high quality of work that students do at Saltash.net. I wouldn't hesitate in recommending this experience as a really worthwhile professional development event.' Mr Edwards
Special thanks to Stuart Ball for arranging and organising the conference @innovativeteach