I was pleasantly surprised to turn on twitter this morning and read this tweet: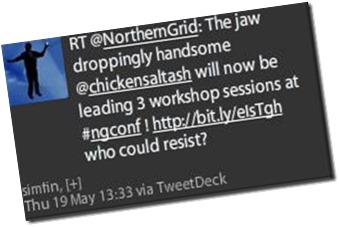 The cheek of it, all these people being sarcastic about my appearance, they were not even talking about the chicken suit!
What it did remind me of though is that there is literally only one month to go to what I tweeted a while ago as possibly being one of the best professional development conferences this year and I still believe that. There are already 16o delegates signed up to hear some fantastic speakers. One of the best things about the conference is that there are so many speakers that will talk for a relatively short time for conferences anyway just 15 mins but does mean like a 'teachmeet' approach you will hear many more fantastic ideas.
I believe there is still time and space to sign up – check out: http://bit.ly/eIsTgh
Well done to @simfin and the team for what I am sure will prove to be a great professional development event. Are you going? Please let me know and get in touch.