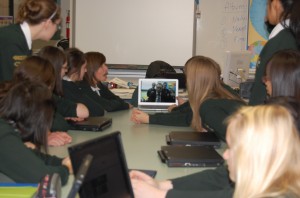 Last week I stepped in to cover an extracurricular ICT club at my school where hard core ICT evangelists between 11-15 years of age attend week by week because they are keen on ICT. The ICT teachers who run it do some fantastic and innovative things with the students such as doing their own game designs etc and are planning to make more of an impact on the school by using the time to plan and support teachers in using technology and in lessons.
Stepping in last week I decided to add a more international flavour to the club, I asked them if they had used some of the web 2.0 tools I had been using in my lessons and discovered that none of them were familiar with Glogster so we used that and posted our glogs to an international collaborative wikispace. (I plan to write a separate post on this later!)
However one of the most exciting parts and most surprising was what we did at the end of the session. I happened to have skype open on my laptop and one of my PLN was on and about to teach a lesson. This was my good friend Lois McGill-Horn who is a Canadian teacher who teaches at Balmoral High School in Winnipeg. I first met Lois at the Worldwide Innovative Teachers Forum in Hong Kong in November 2008 and we have collaborated on international projects with other teachers ever since. She has done some fantastic projects and you can read more about her on her blog and on twitter. We decided there and then to do a video conference with our sets of students using skype – it was incredible, my students were so fascinated and just couldn't believe that they were sat there talking to students in Canada about learning, in fact they ended up staying 45 minutes after they should have because they were absolutely loving the experience. There was an amazing moment where my students took the webcam and laptop and walked round the school, they stopped to show the Canadian girls our main hall where Grease the musical was due to take place.
It made me think why don't more teachers link up this way within their lessons? Our school is innovative in the use of technology and has many international links, we are currently going for the full International School Award but we hardly ever seem to use skype in lessons. In fact I have used it once or twice before but not for ages, I am definitely going to use it more in the future. Why don't more teachers use it? Do you use it often? If so what sort of things do you use it for to enhance the learning of your students?