Friday the 4th December was 'Cool Earth Day' as the students nicknamed it at Saltash.net Community School in Cornwall. In fact it was 'Cool Earth Day' all over the world too especially during the live twitcam session where we found ourselves being watched from as far away as Australia, Brazil and America!
As a school we were extremely lucky to have Javier Drill Bustamente (a real life Amazon tribesman from the Ashaninka Community in Peru who was in Cornwall just about to nip over to talk at the Climate Change conference in Copenhagen to tell us more about his life in the rainforest and how important it is to protect it to help combat climate change) Javier was accompanied by representatives from the Charity Cool Earth and the organisation Ecotribal. I have spoke about these people in previous blog posts about my trip in August to the Amazon to live with the Ashaninka tribe.
Students from ages 11-18 took part in several activities throughout the day. Some students worked on the science behind climate change and how to reduce your carbon footprint. They worked out the carbon footprint of the school and worked out if we were to build a new school how we could ensure that it was carbon positive.
After researching this they created the following models: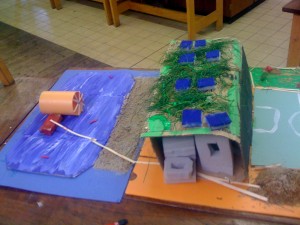 Some students worked on projects in Geography on rainforests – these particular students were fascinated to be able to ask questions and talk directly to someone who lives there. Having the opportunity to spend time and talk to Javier and his supporters gave them valuable insight into the challenges of living in the rainforest which they would not be able to get in any other way.
Some students designed and created trees of hope which other students will attach pledges to. This is to raise awareness and support for the climate change cause.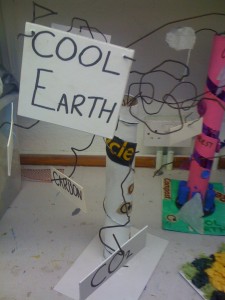 Finally a small group of students worked as reporters for the day and produced a short newspaper and an online blog of the day's events complete with video interviews and movies. One of the big things the whole school took part in was that each student dressed in green and paid £1 to do so. Each £1 that was donated physically protected 1 tree in the Amazon from being cut down near to where Javier lives. Each student received an e-certificate detailing the species of tree they protected and a log in so they can see the map where their tree exists. Why not buy someone you love a Christmas present of sponsoring a tree: http://www.coolearth.org/400/category/protect-a-tree-181.html
And finally the 'big event' was the live twitcam from our main hall. We had over 400 students sat in the hall watching a presentation from our visitors.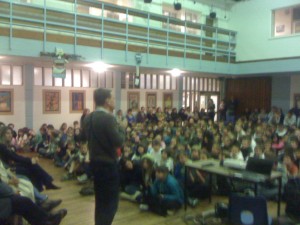 You can see this archived on twitcam at http://twitcam.com/7ab8 make sure you fast forward it to at least 35 minutes into the broadcast as the beginning bit is just a test. As you can see from the video students who won some of the competitions we had been running were given their awards including Adam who had written, performed and recorded a song about Cool Earth. Finally Mathew Owen from Cool Earth talked about how protecting the rainforest can help with climate change before handing over to Javier to talk being helped by Dilwyn Jenkins from Ecotribal who translated. Then students had the chance to ask questions and we opened this up to the audience on twitcam.
It was amazing to see around 70 people tuned in at one point from all over the world – many of these were teachers that had a class full of students watching, potentially the audience could have been up to 2000 people which is simply amazing. If you took part in the event please post comments here.