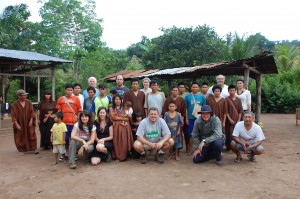 Wow so this probably is my last blog post specifically about our visit to the Ashaninka people with Cool Earth. I promised to keep it to no more than ten, I could have written about ten more but I am sure I will be writing follow up posts on the Teacher fellowship itself, potential fundraising and other teaching resource related posts. After the chickens ate the toads for breakfast we finished up and said our goodbyes to the village of Tinkerani, the people had been so kind and welcoming and we had experienced some amazing things. As we trekked through the rainforest it was a time for reflection and lots of sad feelings about leaving. We were heading back to near Cuti to the ex missionary for two reasons: 1) To receive a telephone call via the Sat phone and 2) To attend an official meeting as part of the Bioclimatic Association which is basically committee of representatives from all the community that's ultimate aim is to protect the rainforest. Drill is the head of this committee, I have mentioned him before.
Whilst we were in the middle of the meeting a spider monkey decided to join in and have its say about protecting the rainforest and ran through the meeting. I decided to throw it some sugar cane which it found extremely satisfying and refreshing.
http://www.youtube.com/watch?v=ftn3av0k1-0
After the meeting we returned to Cuti to stay with Chambuka and Daniel again and what a welcome we had. Cesar had a surprise for us as he had organised for the boat to take us on a river cruise later and had provided some cold beer (real beer not manioc) This was fantastic to taste something else other than water and what a lovely thought. So we had a fantastic few hours cooling down drinking beer and then having our face painted with a local plant. Watch this video about it featuring Clover and Chambuka:
http://www.youtube.com/watch?v=hKq-Y_FDGyc
My painted face just turned into what looked like fake tan very quickly – There wasn't really any pattern etc as you can see from the video. We then exchanged more gifts, well I basically began to hand over all the stuff I had brought that they needed like clothes etc. One of the kids who had travelled with us all along called Danny I made a real connection with and so I gave him my prized England shirt which was completely clean as I had always intended to give it to someone. The video is funny as you can hear him Mum Chambuka telling him to get it off quickly, to not get it dirty and to save it for school! It is great to know that mums are the same everywhere I remember my mum saying the same thing to me years ago!
http://www.youtube.com/watch?v=aiRet7yY7cI
What came next was once again another highlight of the trip – this was a sunset cruise along the river – what a way to end our time in Cuti. This was fantastic just sitting there and seeing a different part of the environment and really just soaking up the rainforest. It was pure bliss.
http://www.youtube.com/watch?v=O4Tx7HlOP_U
So our time in Peru was beginning to end we would travel the following day back out on a plane again to Satipo where we would then catch the night bus to Lima (Which was like the Harry Potter night bus – well the speed of it but was complete luxury! I have never travelled so well, the National Express has a lot to learn!) Then once in Lima we had a full day and evening to enjoy the luxury of the Raddison, to do a bit of shopping, sightseeing and a very nice evening meal before we all flew home the next day.
Now that is not the end of the final blog post yet – there are still many things I could talk about like waiting round all the next day to fly out of the rainforest and the weather being too bad and we were running out of time to all fly out and we were close to staying another night in Cuti or missing the night bus. While we were waiting we were running out of water and were drinking boiled water which was nice and smokey! I could also mention Matthias and his genius use of a belt in a stoilet but I will leave that to your imagination. I could also talk about the amazing plane ride back with our trusted pilot Enrico One of my final memories of Peru will be leaving the last village of Cuti as this was the last time I would really see the Ashaninka people, I was really sad to be leaving, we had grown to really like them, we had certainly grown on them. At first Chambuka the lady we had stayed with was a little distant but by those last few hours she wanted to spend more time with us, I think back now and remember how she kept asking me things and wanting me to show her things and would basically call my name to come and look at something. It was a real privilege and honour to spend some time with them they are such lovely people.
Then just before we were about to go we finally discovered the reason behind something that had been bugging me a little bit. I am afraid to say I had become a little paranoid whilst visiting as every time our group were introduced to new people we would go round and be introduced and when it got to me every time without fail everyone would laugh. Now once is fine but when this happens every time you start to develop a complex and question yourself whether your flies are undone or something else. We finally found out why Daniel the local headteacher of the primary school presented me with two gifts, this was an absolute honour and I was really touched. I was presented with two things I could wear round my neck, the first was a turtle's shell which represented strength and to reflect I was a powerful man and the second a little bit more unusual was the voice box of a howler monkey which represented that I commanded many voices. I was then also told why everyone laughed at me which was because I was a gentle giant with a big smile which was one of the nicest things anyone has said about me.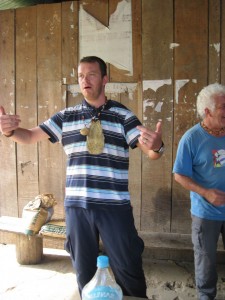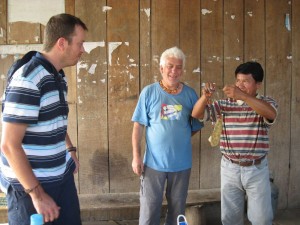 This visit to the Amazon rainforest to meet the Ashaninka people was the most amazing experience ever. This was a real once in a life time opportunity to learn from the Ashaninka people about the challenges they have to face living within their environment and it was truly an honour to be welcomed and accepted within their community. What Cool Earth is doing is without doubt making a massive difference to the Ashaninka and also the entire world.