Last week was a crazy week for me and the staff and students at our school! We were up for 2 national awards on Tuesday and Thursday, at the beginning of the week I was thinking what if we didn't win any of them or what if we win both! Is it such a big deal to win awards? What does it matter?
A big part of me seriously is a little uncomfortable with the whole prospect of winning awards as lots of people deserve them but for whatever the reason don't ever get nominated or are in the right place at the right time. When I was in school on Monday I spoke to some students and they changed my view on it, they were talking about the awards this week and were really proud – they said that these things really put their school on the map and show everyone how good it is! I decided after that moment to remember that and embrace everything that week had to offer.
So to the TES AWARDS on Tuesday…
We headed down to the Hilton Hotel Park Lane via First Great Western and arrived in style in a black cab and straight away were served very chilled an delicious champagne! Mmm Very nice, we then had a very nice lunch and quickly on to the awards.
They were presented by Rory Bremner who was good but we were unsure whether he was appropriate to do these awards as he seemed to be a little disrespectful to the profession.

A list of the winners can be seen here: //www.tes.co.uk/article.aspx?storyCode=6004051&s_cid=Winners
We were in the final of the E-learning category but unfortunately we didn't win but the winner was:
Evelyn Street Community Primary School, Warrington
Project: to encourage junior boys to engage with the curriculum, they were given hand-held computers to take home to access games and websites controlled by the school's ICT technician.
Would be interested to hear more about this project and what it's about.
It wasn't a wasted journey though as we really enjoyed the awards and made a couple of good contacts. Once again it is great for the school to be at things like this as it really does raise the profile.
So to the TEACHING AWARDS (SW)…
It was hosted at Dartington Hall in Totnes and was a fantastic venue! We took a couple of students with us who had nominated and had endorsed my application with the judges. It was a great day and some fantastic people.
I was completely shocked when Justin Leigh (Local BBC Anchorman) announced that I had won the Becta Award for Next Generation Learning which is brand new! I was presented with the award by Brian Hardie of Becta.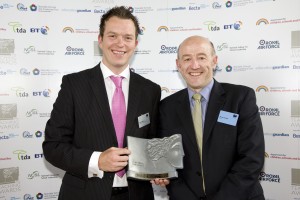 You can read about the new award here:
http://news.becta.org.uk/display.cfm?resID=38861&page=1657&catID=1632
Also check out:
http://www.nextgenerationlearning.org.uk/
If your school hasn't already done so sign up for the ICT mark, also lots of resources etc on there.
So I was an award winner and now wait to see if I stand a chance of winning the main one in London in October!
You can see an embarrassing video of me receiving the award here: I am just so pleased that the battery ran out on the camera before I unleashed my unprepared speech on the audience!
I just wanted to thank all the staff and students at my school for all their support particularly those involved endorsing my bid with the Judges and also thank you to everyone at the Teaching Awards who were brilliant!
Why not nominate someone for next year – you can do that by visiting the site:
http://www.teachingawards.com/
You can also visit my page on there – please leave a comment if you want!
http://www.teachingawards.com/winners/winnerDetail.ikml?id=39088&t=reg&y=11